Call for Papers Special Issue: The Occult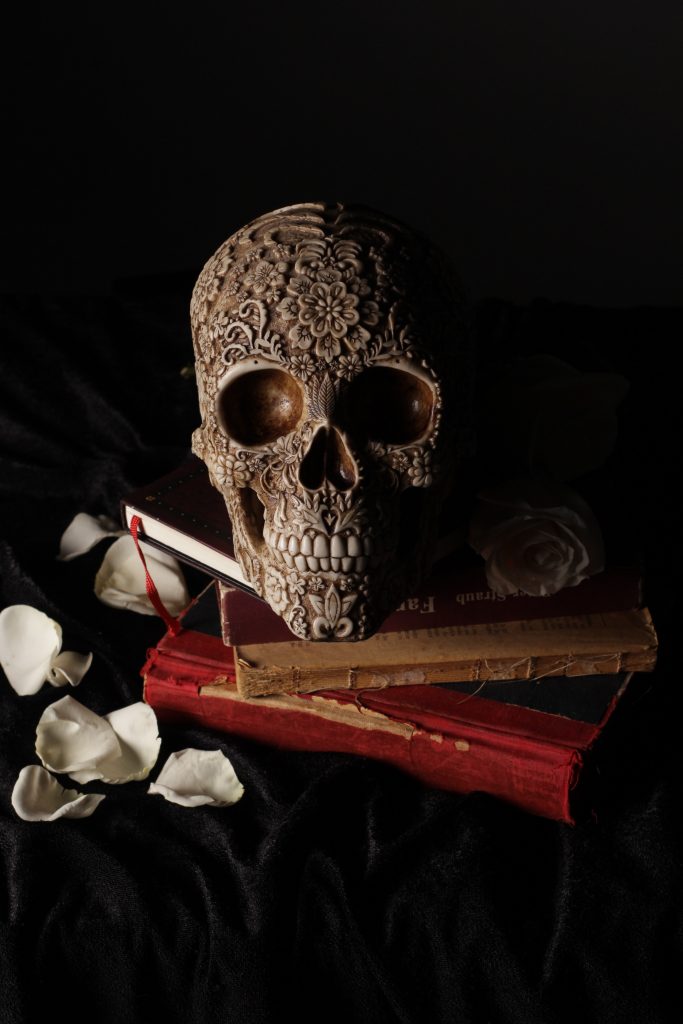 Image: Skull by Andrés Gómez
Guest Editors: Dr. Jeff Howard and Dr. Simon Poole
The occult etymologically refers to the hidden: anything that is beneath, behind, or beyond the veil of everyday human perception. We are arguably in the midst of an occult revival, with references to magic, witchcraft, and the paranormal pervading our popular culture, including games, comics, films, music, and new forms of emergent media yet to be described. Making sense of these multitudinous conjurations of forces from beyond is a complex process, since ostensibly many 21st century cultures declare themselves to be both secular and materialist. What, then, do we summon when we conjure? What liminal forces batter at the doors of our reality, demanding what offerings and sacrifices?
Occultism operates in theory, practice, and the intersection of the two: currents of ideas about hidden cosmic forces as well as practices by which these forces can be evoked and channelled. What does it mean to be a creative practitioner when aspects of one's practice draw power from the Dark Arts? What does it mean to approach theory from perspectives that have been marginalized and, at times, actively persecuted (legally and at the stake)? Why might occult lore and practices loom with ominous urgency at our particular moment with its dark conjunction of apocalyptic crisis and millennial fervour?
For this issue, we invite articles, creative pieces, and reviews that address any manifestation of the occult in art, culture, or history, with particular emphasis on contemporary occult influence. Topics include, but are not limited to:
Occult games and interactive experiences, including videogame, tabletop, VR, LARPs, and ARG's. These could encompass occult videogames, including AAA titles such as The Medium, indie titles such as The Haunted PS1 Demo Disc, or occult-themed tabletop games such as Invisible Sun or Mörk Borg. How do we simulate the conjuration of forces from the beyond, and what does it mean to play with dark forces within the formal framework of rules?
The occult and/in music (including occult-themed heavy metal bands such as Ghost or Behemoth, psychedelic music such as Roky Erickson or the bands on the Library of the Occult label, or occult EDM such as Gost or Perturbator)
Occult films. These could include either historical films, ranging from Kenneth Anger's cinematographic rituals or the sensationalism of Hammer horror, to contemporary occult film, such as the melancholy meditations on magic and grief in A Dark Song or The Night House. What does it mean to represent the ineffable visually?
Specific currents of the occult, including folk magic, ceremonial magic(k), necromancy, chaos magic, vodoun, witchcraft, and Satanism
Occult museology. How are museums, such as The Museum of Magic and Witchcraft in Cornwall or the Buckland Museum of Witchcraft and Magick in Ohio, preserving, archiving, and celebrating versions of the occult? What narratives and counter-narratives do these museums promulgate?
Occultism in folk horror and its various revivals across media, including films such as Midsommar, bands such as Green Lung, and games such as Mundaun and Solemn Vale
The occult arts, including magically-influenced painting, sculpture, theatre, and combined arts
Occult bibliophilia and talismanic publishers such as Scarlet Imprint and Hadean Press
Theories of the occult, including ritual studies, Hermeticism, pseudo-science, cryptozoology, and the emergence and critique of conspiracy theories
Politics and the occult. Manifestations of occult rhetoric, imagery, and practice as means of accessing and resisting political power in relation to various intersecting ideologies, including anarchist and communist occultisms, co-opting of the occult by the alt right, and subversion of dominant occult paradigms by marginalized individuals and groups
We also welcome creative pieces that are thematically focused on the occult or that are themselves performances, representations, or simulations of occult practice.
For articles and creative pieces (such as poetry, short stories, flash fiction, videos, comics, games, artwork, and music) please send a 500-word abstract and a short biography to

[email protected]

and

[email protected]

by March 20 2022.
Reviews of books, films, games, events, and art related to the occult will be considered (800-1,000 words in length). Please send full details of the title and medium you would like to review as soon as possible.
If your abstract is accepted, the full article (maximum 7000 words, including Harvard referencing) and the full creative piece (maximum 5000 words if a written piece) will be due by September 23 2022.
This issue will be co-edited by Dr. Jeff Howard, a Senior Lecturer in Games at Falmouth University whose work focuses on games and the occult, and Dr. Simon Poole, Senior Lecturer in Music as well as a doom metal drummer and a DJ for the online radio program Heavy Friends.
.