Call for Papers Special Issue: Performing Fairy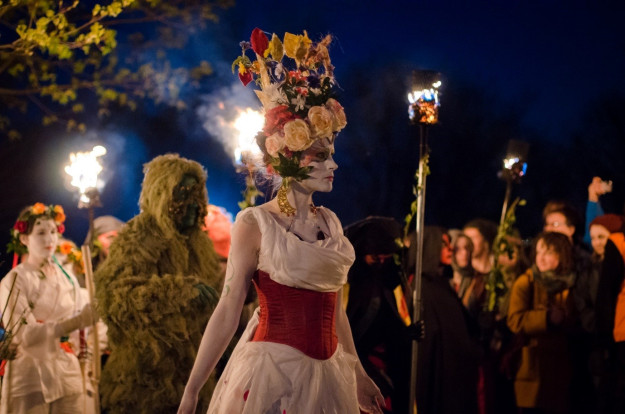 ---
CALL FOR PAPERS FOR SPECIAL ISSUE: PERFORMING FAIRY
Guest Editors: Dr Fay Hield & Dr Kevan Manwaring
Revenant: Critical and Creative Studies of the Supernatural (www.revenantjournal.com) is now accepting abstracts for critical articles, creative writing pieces, and book, film, music, or event reviews for a themed issue on 'Performing Fairy', examining contemporary and historical intersections of phenomenological fairy practice.
---
PERFORMING FAIRY:
Contemporary & historical intersections of phenomenological fairy practice
Heere is the queene of fayerye,
With harpe and pipe and symphonye,
Dwellynge in this place.
The Shipman's Tale, Chaucer (lines 813-816)
From Chaucer to Shakespeare, Spenser to Tennyson, there has been an element of performance in the perceived nature and representation of fairy. Both the content and the tradition that preserves and develops it operates upon this performativity. The tradition bearers – teller of tale and singer of songs – conjured fairy with their words and music. The Reverend Robert Kirk, author of the monograph of The Secret Commonwealth of Elves, Fauns and Fairies (1691/1815) made the first mention of the phrase 'Fayrie Tale', and in his proto-anthropological survey of the 'Subterraneans', as he termed them, described how they mirrored the culture and customs of the country they dwelled inmentions of their particular penchant for enchantment – glamourye – a weaponisation of illusion to deceive, seduce, control, terrify, bewilder, or drive to madness. Beauty is their weapon. Icily amoral and wearily immortal, fairies find amusement in mortals' fleeting lives. Supernatural border ballads such as 'Thomas the Rhymer' and 'Tam Lin' describe perilous encounters between fairy and mortal. Numerous folk tales dramatize similar bitterly won wisdoms – fortune may be bestowed, but lost in a flash. Those who encounter the deadly glamour may become 'fey' and fade away, pining to death for the elusive sublime.
Despite the many taboos and warnings, humans have found the fairy world perennially fascinating. As an anti-Enlightenment project the idea of fairy offered a conciliatory corrective to the hard materialities of Empiricism and Atheism – a counter discourse to the Age of Reason, the Industrial Revolution, Modernism, the Atomic Age, and now, the Digital. Lovers of folklore, and culture continue to turn to the alluring nexus of the supernatural, the otherworldly, and the hauntingly beautiful. Perhaps this is not surprising. JRR Tolkien cited 'escape' as one of the functions of the fairy-story, defending this emancipatory quality robustly: "Why should a man be scorned if, finding himself in prison, he tries to get out and go home? Or if he cannot do so, he thinks and talks about other topics than jailers and prison-walls?" As we see in the mass appeal of fantasy books, TV series, films, computer games, comic books, cos-play, LARP, and the many other media which draw upon tropes derived from fairy traditions. A sustained effort to 'escape', to breach the walls of reality, or at least experience for a little while re-enchantment through a willing suspension of the consensus reality. Some go beyond this to actively engage with fairy ideals in ritualistic ways – Neo-pagans, modern 'fairy pilgrims', participants in events like the Beltane celebrations in Glastonbury and Edinburgh. Adopting Husserl's definition of phenomenology, is it possible to define a 'phenomenology of fairy'? What is being accessed or recreated by these participants in their lifeworlds? Do any common features emerge in the individual noesis and the noematic act? What effect is being experienced by the reader, the viewer, the audience? Is this the same as that intended by the creator, writer, performer? What fugue states were entered into by the creative during their process of creation – and can any analogies be drawn with folkloric material? Is the act of 'performing fairy' – on page, stage, screen, studio or meadow – a form of Lévy-Bruhl's participation mystique? And what, if anything, can be achieved by such sympathetic magic? How does performing fairy critique or subvert dominant discourse?
Contributing to this discussion, we invite abstracts for work that examine the role of fairy and its evolution as a cultural marker and interrogator of societal issues across film, TV, literature, video games, art, music or public performance. These topics could include, but are not limited to:
Fairy in music.
Fairy in storytelling and performance poetry.
Public folklore and rites of fairy.
Contemporary performance of fairy at festivals and events.
Representations of fairy in popular culture.
The Cottingley fairy hoax, reception and legacy.
Fairy customs in global folk cultures.
Contemporary professional performance practice inspired by fairy.
Gender representation in fairy – theatre/TV/film/poetry/fiction.
Race and class in fairy – theatre/TV/film/poetry/fiction.
Fairy tourism/ Public engagement with fairy sites.
Neo-Pagan fairy practitioners – ritual & ceremony.
Digital fairy – fairy worlds online.
Feel free to interpret these in any way you wish, or to come up with your own angle of enquiry.
For articles and creative pieces (such as poetry, short stories, flash fiction, videos, artwork and music) please send a 200-300 word abstract and a short biography by October 31st, 2019. If your abstract is accepted, the full article (maximum 7000 words, including Harvard referencing) or the full creative piece (maximum 5000 words) will be due April 30th, 2020. The aim is to publish later that year. Reviews of books, films, games, events, and art related to the concept of fairy will be considered (800-1000 words). Please send full details of the title and medium you would like to review by Oct 31st, 2019.
Further information, including Submission Guidelines, are available at the journal website: www.revenantjournal.com.   Enquiries are welcome and, along with all submissions, should be directed to [email protected]. If emailing the journal directly at [email protected] please quote 'Fairies special issue' in the subject box.
Photo Credit: Beltane Fire Society, Edinburgh, 2018. Photography by Daniel Rannoch.